Moscow: new hotel exhibition in September
International Exhibition "Hotel. Equipment and technology" for the hotel industry professionals will be held in the international exhibition center Crocus Expo in Moscow from 25 to 28 September, 2012.
Hotel Show 2012, one of the largest exhibitions of the hotel industry in the Middle East, will be held from 15 to 17 May, 2012 in Dubai. This year the exhibition will be held for the 13th times. It is expected that this year's event will attract about 15,000 hotel industry professionals from around the world.
In early March Berlin will host one of the largest tourist exhibitions in the world - ITB 2012. Traditionally visitors of ITB 2012 can expect numerous stands of tour operators with tourist destinations and current trends in the tourism industry, seminars and conferences.
Horecava 2011: Everything for hotel in Amsterdam
Horecava 2011 as in previous years will be an exhibition for professionals. Only representatives of hotel and restaurant business can take part in it.
Arabian Travel Market 2010 Exhibition in Dubai
One of the biggest tourist exhibitions in Asia and the Middle East - Arabian Travel Market (ATM) will be held from 4 to 7 May 2010 in Dubai in the territory of business center Dubai International Convention and Exhibition Centre.
The International Exhibition ITB 2010 in Berlin
On the 10th of March 2010 one of the biggest tourism exhibitions in the world - ITB Berlin will start.
Hotels at World Travel Market 2009
On the 9th of November 2009 the biggest tourism exhibitions in the world - World Travel Market – opens in London.
Exhibition HITEC 2009 opened in Anaheim
Exhibition HITEC 2009 began its work in Anaheim on June 22. According to the organizers, HITEC 2009 - is the largest exhibition in the field of hotel technologies not only in the United States, but in the whole world.
The largest travel exhibition in Russia - MITT 2009 – will be held in Moscow on March 18
In Moscow in Expocentr Krasnaya Presnya, one of the largest exhibition halls in the Russian capital, one the most important event for the Russian tourism - exhibition MITT 2009 will take place on 18 March.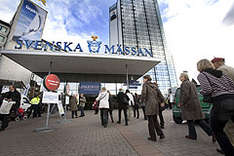 The largest travel fair in Scandinavia – TUR 2009 - will be held in Sweden on March 19
On March 19, in Sweden, in the city of Gothenburg largest tourist fair in Scandinavia -TUR 2009 - will begin.