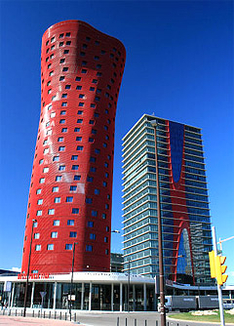 Spanish hotel is the best skyscraper of the world
Hotels in Spain was named the best skyscraper in the world. The Spanish company Fomento de Construcciones y Contratas received the Grand Prix of Emporis Skyscraper Award for its hotel Porta Fira - red burning skyscraper in Barcelona.
In the new F-1 hotel wiil be Cocoon-rooms
The first of these rooms was presented to the press in the new Formule 1 hotels, which opened in Australia. Hotels with Cocoon rooms appeared in Canberra, Campbelltown and Wentworthville.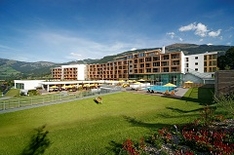 Kempinski opens new hotel in Austria
Kempinski opens its first hotel in Austria. "Kempinski" hotel group has signed a contract to manage 5-star hotel in Tyrol. "Kempinski Tyrol" hotel is located at the famous ski resort Kitzbuhel and will offer classic comfort services from Kempinski already this winter.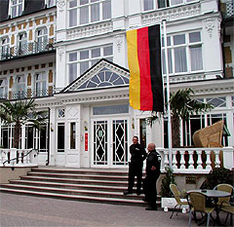 German hotels are bought by French investors
In total LFPI intends to buy 30 hotels in different cities in Germany.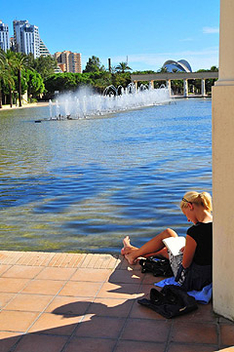 Hotels in Spain expect summer 2011 to be successful
In summer 2011 fall in prices for hotel services in Europe became widespread. One of the undoubted leaders in lowering prices is Spain. Hotels in Spain make efforts to compete with Morocco and Tunisia and offer unprecedented discounts in order to attract more tourists.
Sheraton hotels: 20 million on advertising
Sheraton hotel chain began an advertising campaign Meet You There, which will become a logical continuation of the recent re-branding, which has experienced one of the most famous hotel chains in the world.
New hotel in Barcelona: 5 stars from Alma Barcelona
New five-star Alma Barcelona hotel was opened in Barcelona. It is located in the Eixample district, at the Mallorca Street, in the seven-storey building of the early XX century, which has been recently renovated in March and adopted its historic appearance. Its guests the new hotel can offer 72 comfortable rooms (the area of each room is not less than 40 square meters), including 16 «executive suites» and two «suites»
Best hotel in Kaluga, according to Forbes
Ambassador Hotel is considered to be the best hotel in Kaluga, according to the Russian version of Forbes, which introduced the rating "Best regions for business - 2011".
Hotels in Turkey: high demand before the arrival of Angelina Jolie
This week hotels in the Turkish province of Hatay are experiencing a real tourist boom. It was caused by the arrival to this part of the country of famous actress Angelina Jolie. Jolie arrived in Turkey as a UN Goodwill Ambassador in order to visit the camp of the Syrian refugees - Hatay.
Hotels in Moscow: openings and plans for 2011-2012
World leading hotel companies continue to be interested in Moscow. Many of them have long ago firmly established in the local market, but some are still trying to start its expansion.
Ritz-Carlton: 100 hotels by 2016
For this strategy the company expects to spend $2 billion. Money will be invested in hotel real estate around the globe: from Morocco to Mexico.
Famous hotel in Barcelona has become unique
Purchase of the Grand Central Hotel Barcelona cost In Hotels about 22 million euros.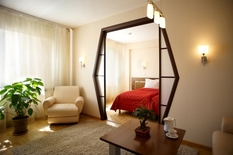 Hotels in Novosibirsk: new Azimut hotel
On June 8, 2011 in Novosibirsk AZIMUT Hotels Company will solemnly open its first hotel in the city - Azimut Hotel Siberia. The new hotel will receive "three star" class. The new hotel is located in the heart of Novosibirsk at Lenin Street, 21.
During the period from June 2010 to May 2011 IHG Hotel Corporation announced about launching of 19 new hotel projects in the UK under various brands.
Ancient capital of Hungary, Budapest, constantly attracts a huge number of tourists. And given the increasing demand for comfortable accommodation many hotel chains are trying to place here its brand hotels. So, this year already two new ultra-comfortable hotels will open its doors to the first visitors.
Hotels in South Africa: bill for apocalypse
Hotel in South Africa hardly billed few tourists, who decided to hide from apocalypse in its rooms.
New spa hotel in Scottish castle
In Scotland, near the small town of Kenmore, in the county of Perthshire is located one of the most famous Scottish castles - Taymouth. And although its present shape it received in the beginning of the last century, the history of Taymouth started much earlier, in 1552, when it was the principal seat of the legislature of Lords Campbell and Breadalbane.
Hotels in Bulgaria increased profitability
Hotel market in Bulgaria is experiencing an ambiguous period. It is confirmed by the data published by the National Statistical Institute of Bulgaria.
The first Raffles hotel will appear in Istanbul
Well-known Raffles Hotels & Resorts hotel chain began construction of a new hotel. In the heart of Istanbul in a year will be built Zorlu Cemtre hotel, the first hotel of this network in Turkey.
Mega-projects in Mecca from Marriott, Hyatt and Hilton
Already three hotel giants announced about the launch of its mega projects in Saudi Arabia. Jabal Omar Development Company - Saudi developer - has signed a contract with Marriott, Hyatt and Hilton on managing in total 12 hotels in Mecca.
Thailand and especially Phuket enjoys permanent popularity among tourists from all over the world. People come here for exotic and fun, for unforgettable scenery and clear waters and just for good holidays. It is therefore not surprising that at this resort are located very cozy and comfortable hotels of the world leading hotel chains.
Ibis Larco Miraflores visitors can use the lobby bar, parking and free wi-fi-internet access in all rooms and public areas on the territory of the hotel.
Hyatt in Cologne was opened after reconstruction
In 2011 Hyatt Regency Cologne hotel re-opened its doors after the reconstruction. As a result of a large-scale reconstruction of the interior, including its 288 rooms and four Regency View suites, have a new look, which was created by professionals from t
Its list Travel + Leisure divided into thematic groups. Thus, separate groups include hotels, beach hotels, designer hotels, historic hotels and resort hotels. Below is presented the published list.
8 Hotels in France became palaces
Among the hotels in France, which have received such a high rank, dominate hotels from Paris.
Ritz-Carlton will double its presence in the Middle East
Chain of luxury hotels Ritz-Carlton plans to double its presence in the Middle East in the next 3 years. By 2014 the number of Ritz-Carlton hotels in the region should grow up to 24. Such a figure was announced on Tuesday by one of the top managers of Rit
Waldorf Astoria forced its waiter to change the name
One of the most luxurious hotels in New York, the famous Waldorf Astoria, is at the center of the scandal. In addition to the hotel in the scandal is involved one of the hotel staff, waiter Mohamed Kotbi.
Hotels in Japan offer unprecedented discounts
Best hotel and apartment offers in Japan were proposed to the Russian tourists after the abolition of the Russian Foreign Ministry recommendations and prohibition of tourist trips of Russian travelers to this country.
Hotels in Disneyland: new rooms for princesses
Already 512 rooms in the Port Orleans Resort hotel located on the territory of the Disneyland in Orlando, will be converted into special themed suites, which offer their guests (firstly, female guests) special design in the spirit of the Disney princesses
Hotels in Amsterdam have already recovered
Hotels in Amsterdam in the beginning of the 2011 tourist season were among the most successful hotels of the Old World.